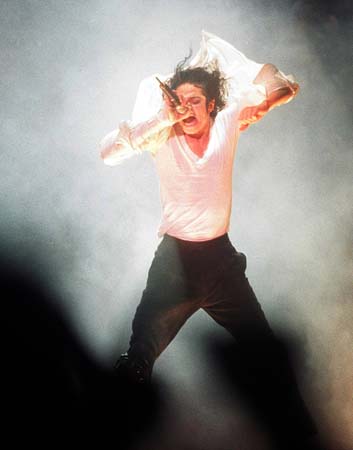 Michael Jackson: a great talent, who touched many of his young fans; the self-styled King of Pop; the boy who never grew up. Jen summed him up rather well last night:
I can't believe Michael Jackson was 50. For some reason, I always assumed he was younger than me… Mind you, most of him probably was.
Stuff, as they say, came out of my nose.
The thing is, I would sooooooo like to be the person who arranges Michael Jackson's funeral. Just imagine: the pall-bearers (who I assume would be the remaining Jackson Four) do a moonwalk up to the side of the grave, they place the coffin on the ground, the lid slowly opens, and out leaps a red-suited Jacko look-alike to perform Thriller as zombies and stuff climb out of the grave.
Seriously. He was a great showman. It's what he would have wanted.
(It'll be interesting to see if La Toya turns up at the funeral. That should scotch a few rumours—or, more likely, start a whole pile more.)